Management principles
We produce high-quality products and enrich society through dyeing techniques
There is a myriad of colors in the world, and each color is meaningful. Everything is a certain color for a reason.
Through our color-related techniques dedicated to the smallest details, our company delivers high-quality products to the world and contributes to realizing a color-filled society through our business development.
Aiming for mental and material happiness for all employees
Our company aims for all employees to feel happy, fulfilled and purposeful in their jobs, who are recognized and needed by society because of their passionate efforts at work and continuous provision of good products to the market. At the same time, we aim to receive suitable profits and for them to have material happiness as well.
Because people spend some of the limited time they have in their lives at work, we believe that they should benefit from their jobs, be appreciated in the world, and agree to the work themselves.
Aiming to realize an appealing society that makes even the next generation want to work in the company
Seishoku's employees contribute to the progress and development of society by passionately cooperating, enjoying working, and energetically undertaking their jobs. By putting this into practice, we aim to be a company that is even more trusted by our customers, employees, locations, and society, and become a company that can take pride in itself.
We aim to create a society in which young people, such as our children, who will shoulder creating a future want to work at Seishoku from the bottom of their hearts.
President's Message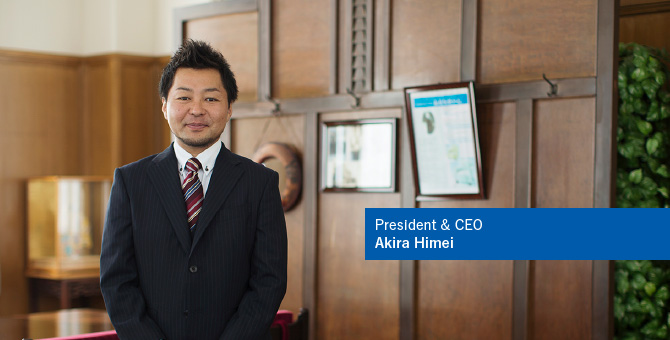 Our company started as a textile manufacturer in Kurashiki City in 1880 and has over 140 years of history. During our long history, we have worked mainly on dyeing and finishing work uniform fabric, artificial leather, and colored denim, with dyeing work currently centered on our Okayama factory.
"Dyeing" does not simply meaning adding color to an uncolored item. After craftsmanship and inspection from the long pre-processing before dyeing to the long post-processing after dyeing, our products are at last delivered to the world. Our company's technicians and staff pour their souls into their work for each stage of the long process.
In order to further leverage our company's largest strengths of quality stability, color reproducibility, and safety assurance through domestically-developed processing technical prowess and production control prowess, we share our management principles of "We produce high-quality products and enrich society through dyeing techniques" with all our employees, and seek even higher production efficiency.
As long as there are strict quality standards in Japan and Japanese people continue to be uniquely discerning about subtle color differences, we will continue to exert all efforts to meet our customers' expectations and aim to be the Japanese dyeing company that receives the most trust possible.
In addition, in recent years we have been working on the NUNOUS project that upcycles non-standard textile products through unique manufacturing methods, and advancing sustainable production activities and resolution of social issues.
We will continue to challenge ourselves to precisely meet the needs of our diversifying society and develop "Japan Quality" in Okayama.
Company Outline
Company name
Seishoku Co., Ltd.
Established
May 1, 1880
President & CEO
Akira Himei
Head office address
234 chaya-machi, Kurashiki City, Okayama Prefecture
710-1101[Map]
Tel: +81-86-428-1211
Fax: +81-86-428-8114
Okayama factory
2-8-7 Nakai-cho, Kita-ku, Okayama City, Okayama Prefecture
700-0804[Map]
Tel: +81-86-224-3281
Fax: +81-86-233-0869
Capital
98 million yen
Business content
dyeing, bleaching, various kinds of finishing
Main clients
Nisshinbo Textile Inc., Kuraray Co., Ltd., Kuraray Trading Co., Ltd., ITOCHU Corporation, KAIHARA Co., Ltd., UNITIKA TRADING Co. Ltd., Caitac Trading, Inc., Asahi Kasei Advance Corporation., Teikoku Sen-i Co., Ltd., Toray International, Inc.
Main banks
Chugoku Bank, Mizuho Bank, MUFG Bank, Shoko Chukin Bank, Japan Finance Corporation
Company history
1880
Establishment (began textile manufacturing under the company name Seishoku Company)
1893
Name change to Seishoku Limited Partnership Company
1908
Name change to Seishoku Co., Ltd. upon becoming a public company
1925
Merger with Chaya-machi Boseki Co. Ltd., simultaneous operation of cotton thread spinning
1942
Arrangement of an integrated system for spinning, weaving, and dyeing through acquisition of the Okayama Textile Industrial Association's bleaching and dyeing factory
Merger with Toyohama Orimono Co., Ltd., and name change to Seishoku Kogyo Co., Ltd.
1943
Visit to the Toyohama factory by Her Highness Princess Takamatsu
1945
Start of manufacturing of thick cotton fabric for work uniforms aimed at private demand
1950
Visit to the Toyohama factory by His Highness Emperor Showa
1960
Start of dyeing of artificial leather
2003
Acquisition of ISO 9001:2000 certification
2012
Start of dyeing of colored denim for casual clothing by major manufacturers
2016
Installation of two three-ton once-through boilers (to reduce CO2)
2018
Switch to ISO 9001:2015
Start of the NUNOUS initiative (initiative to upcycle fabric layers)
2019
Start of the KURASHIKIZOME project
Acquisition of OEKO-TEX® Standard 100
2020
140th anniversary since establishment
Name change to Seishoku Co., Ltd. (now with katakana characters instead of kanji characters)
2021
Complete transition to energy-conserving boilers
We were honored with a visit by Her Highness Princess Takamatsu in 1943, and with a visit by His Highness Emperor Showa in 1950.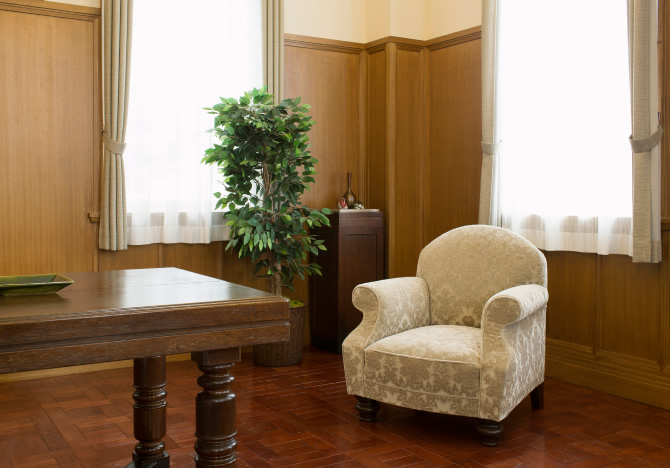 During his Imperial visit to Kagawa Prefecture in 1950, His Highness Emperor Showa visited our Toyohama factory.
This is one of the chairs that His Highness Emperor Showa used during his visit.
It is still preserved carefully in a room of our headquarters, with repair work conducted to maintain its appearance just as it was at the time.