Okayama factory
Outline
Site area
23,332m2
Building (total floor space)
15,681m2
Production capacity
(Monthly production)
2,000,000m2
(Dyeing 1,600,000m2/bleaching 400,000m2)
Processed items
Dyeing, bleaching, processing, and finishing of all kinds of textiles (double width and single width); dyeing, processing, and finishing of artificial leather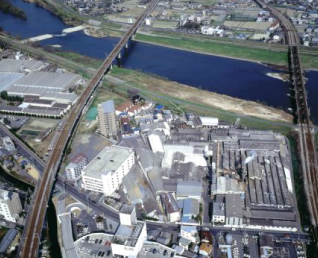 Acquired certifications
ISO9001
Our company has computerized our entire production control system to thoroughly achieve QDC (Quality, Delivery, Cost). We also develop refined products in line with society's needs by utilizing advanced technologies and our signature dyeing techniques, including working on new materials. In terms of quality assurance, we have acquired ISO9001 certification.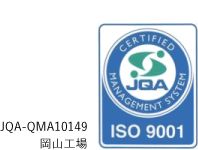 OEKO-TEX® Standard 100 (process certification)
OEKO-TEX® textile safety certification is only given to products that clear strict standards at the top level in the world. We have acquired their "process certification," which verifies the safety of fiber processing around the world that does not include harmful chemical substances.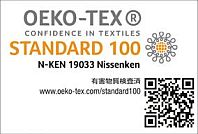 KURASHIKIZOME®
An initiative of the Okayama Prefectural Textile Dyeing Industries Association, which Seishoku has joined.
Processing at the unique safety and quality standard (equivalent to ZDHCMRSL 2015 VERSION 2.0) to only use very safe dye chemicals during the dyeing process amidst rising consumer awareness in recent years.
Supports sustainable craftsmanship offering safety and peace of mind through periodic inspections by the Nissenken Quality Evaluation Center, a quality inspection organization.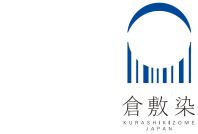 Machinery
Once-through boilers (3 tons)

10

Continuous desizing, scouring, and bleaching machines

3

Continuous silkete machine

1

Continuous dyeing machines

3

Pad steamer rinsing machines

2

Heat treatment machine (baking machine)

1

Circular dyeing machines

8

Automatic tensionless jigger

2

Dryers (resin treatment machines)

4

Emery nap raising machines

3

Textile inspection machines

6

Textile winding machines

3

Textile inspection and winding machines

6

Other

CCM system / inspection system / automatic packing system / process control system / various testing apparatuses
Dyeing processes
Textile dyeing process

Original material
Received original materials are sewn, singed, and desized to the necessary quantity.

Scouring and bleaching
Removal of grease and various pigments in the natural fibers, as well as grease stains, pigment stains, etc. from the spinning process.

Silkete
Improvement of luster by enhancing the cotton's size stability and dyeing compatibility through alkali treatment of the material.

Dyeing
Adding and drying the mixed dyes to achieve the designated hue, and setting it with heat.

Resin treatment
Resin treatment is conducted to provide the texture and functionality requested for the finished product.

Finishing
Setting (tentering) the designated finished material, and pre-shrinking it (sanforization).

Textile inspection
Inspection for fabric and processing flaws, and providing a grade (A grade, B grade, C grade).

Shipping
The inspected material is wound, packed, and shipped.
Artificial leather dyeing process

Original material
The received original material is cut to the necessary quantity, and divided and dropped off to a dolly.

Pre-treatment
Chemicals are added so that the dye enters the inside of the original material, and thick sections of the material are pre-dyed.

Dyeing
The mixed dyes are added to achieve the designated hue.

Drying
The water used during dyeing is removed and the material is dried.

Post-treatment
Chemical treatment is conducted to yield functionality and texture.

Finishing
Process to produce the texture, feel, and sheen requested for the final product.

Material inspection
Inspection of the original material flaws and processing flaws, and judgment of whether there was success or failure.

Shipping
The inspected material is wound, packed, and shipped.
Seishoku's original processing
It is possible to have mixed weave processing with cotton for the warp and polyester for the weft. This new dyeing technique is performed once and is environmentally-friendly (in terms of energy and water resources).

A silky, springy texture. This processing yields material that is gentler on skin through silk's moisturizing and insulating components.

It is available for mixed polyester/cotton items. A tasteful dyed feel with unique uneven dyeing.

It achieves over 90% deodorization after the first wash and after 10 washes for ammonia, acetic acid, and isovaleric acid. This is an advanced deodorization process.

Peach texture that can only be produced through careful paper nap-raising. The nap-raising produces a texture just like peach fuzz.

Supple texture unlike anything before through polyester quantity reduction processing. It is also possible to combine with UBUGE and CLOSPEC.
Other function processes and special processes
Anti-bacterial processing and odor-resistant processing

Suppresses bacteria that feed off of sweat, grease, and waste products. It controls unpleasant odors produced by the bacteria's secretions.

Antibacterial processing

Suppresses proliferation of bacteria such as staphylococcus aureus, e. coli, Klebsiella pneumoniae, and MRSA bacteria. It is for medical and nursing care.

Sweat-absorption, quick-drying processing

Improves the feel of clothes with high sweat-absorption and quick-drying properties.

Easy care

Effective for shape retention of cotton/polyester textiles. It enhances the ability to simply wash and wear cotton fabrics, and suppresses shrinkage.

Thermal storage processing

Creates pleasant warmth by changing sunlight infrared rays into thermal energy.

Springy texture processing

Produces a firm, resilient, springy texture in fabric.

UV reduction processing

Protects skin by effectively reducing UV rays.

Waterproof surface processing

Applies waterproof processing to only the surface of the fabric without reducing breathability, aiming for comfort through absorption of liquid such as sweat from the inside.

Anti-stain processing

Makes water and oil-based staining difficult to occur and easy to clean off.

Deodorization processing

Reduces unpleasant odors with its effective reduction of odor components.

(Ultra) waterproof processing

Boosts water repellency and even stain resistance without reducing breathability. Ultra-waterproof processing maintains water repellency for a long time, and offers excellent durability for washing.

FD processing

Our signature processing to create a used feeling. Various appearance changes for items are possible through washing.

Cooling processing

Produces a refreshing coolness through cooling effects due to an endothermic reaction.

Other

We also offer various other kinds of special processes.