Recruitment policy
Our treasured recruitment policy is to have people view the workplace, listen to stories, understand everything, and enter the company, so that people do not say, "I did not think there would be this kind of company culture," or, "This is different from the job I imagined" after they enter the company.
The human resources we are looking for
[Sincere people]

People who can give greetings in bright, lively voices. People who can smile broadly. People who can genuinely listen to what they are told. The people who can most exhibit "sincerity as people" before they are working members of society.

[People who are accustomed to following what has been decided]

The company is an organization and there are rules.
For individuals to work their best among many people, it is most important to follow the decided rules to smoothly advance work. We are also looking for people who can keep promises and deadlines to achieve close trust.

[People who can think for themselves and quickly take action]

Although we are a company with a long history, each of our employees shapes the future by playing leading parts and adding daily improvement. We have prepared a place where people who have a spirit to challenge themselves to think for themselves, take action, and grow as people can be active.

[People who can share values]

There will be a mismatch unless there are people who can share all of the management principles and the employee conduct standards (the company's values). Rather than whether you are able to share everything now, it is about sharing values going forward and devoting yourself to working together with everyone to have an appealing company. If you agree, then let's work hard together.

[People who have a strong sense of responsibility that they do not simply give up]

We are waiting for people who have a strong sense of responsibility "to absolutely follow through, follow through even if I fail until I succeed," no matter how difficult the issue they are tackling is.
Employee benefits
[Provision of company housing]

You can rent housing owned by the company.

[Retirement benefit system (over 3 years of continuous employment)]

Payment is provided when you retire that reflects your capabilities and years of continuous employment.

[Congratulatory payment for acquiring designated qualifications]

Congratulatory payments are provided when employees acquire designated qualifications.

[Qualification acquisition support system]

The full payment amount for acquiring qualifications is borne by the company for employees when the acquire qualifications deemed necessary for the company, or when they actively aim for development of their capabilities.

[Acknowledgement system for many years of work]

To express gratitude to employees who have worked at the company for many years, certificates of commendation and gifts are conferred to mark 20 and 30 years of continuous work.

[Medical treatment support system]

In order to support the daily lives of employees when they are absent from work due to injuries or illness, partial or full wages are guaranteed for a fixed period.

[Childcare leave]

Childcare leave can be taken until the child turns two years old.

[Sick/injured childcare work absence]

Employees may be absent from work to care for sick/injured children who have not yet entered school.
It is of course possible to be absent in half-day units.

[Shortened work hours to provide childcare]

Work hours can be shortened to six hours per day for employees rearing children up to the lower grades of elementary school.

[Family care leave]

93 days' worth of family care leave can be taken in order to care for family members.

[Family care work absence]

Employees can be absent from work to provide care to family members.
This can of course be taken in half-day units.

[Shortened working hours to provide family care]

Work hours can be shortened to six hours per day for employees who are providing care to family members.

[Annual paid leave in half-day units]

Annual leave can be taken in half-day units.

[Paid sick leave]

Expired annual leave can be utilized for long-term recuperation from illnesses.

[Special leave]

Leave is available for marriages by employees themselves or their relatives, childbirth by employees' wives, and funerals.

[Payments to express congratulations or condolences, or for disasters]

Payments are made to express congratulations for happy occasions, condolences for funerals, and when natural disasters occur.

[Events]

Events such as the year-end party and softball tournament are held to deepen friendship among employees through exchanges outside work.

[Examinations to prevent lifestyle diseases]

The company pays part of the examination fee when employees receive examinations to prevent lifestyle diseases.

[Meal subsidies]

The company pays part of meal expenses when boxed lunches are ordered.

[Drink subsidies (summer only)]

Drinks are provided on some days as a heatstroke countermeasure.

[Possible to commute to work by car]

It is possible to commute to work by car because there is a free parking lot, despite being located in an urban area.
Recruitment of new graduates

Employee introductions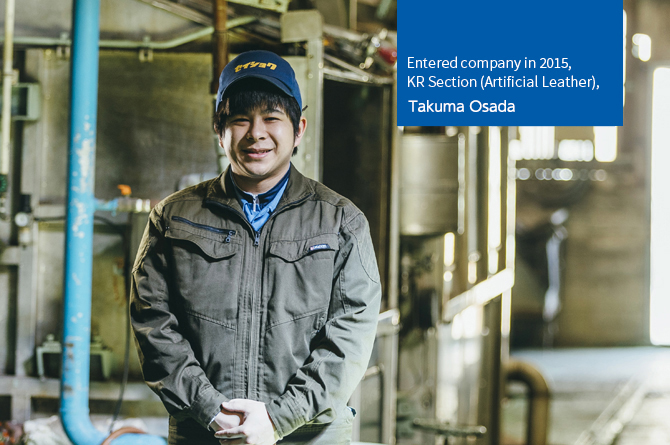 I first learned about Seishoku when I visited the factory when I was in high school. I remember that all of the employees were working with lively expressions, and I felt the good company atmosphere. My first impression was, "I want to try working at this company."
I work on dyeing artificial leather. I create dyes, look at color shades, and do other tasks to match the colors requested by customers. When I entered the company, it was difficult because I had to acquire a lot, such as about dyes and how to operate machinery. But I gradually became able to do the work more smoothly as I assisted more senior employees do their jobs, and I began to feel fulfilled. This is an environment in which supervisors and more senior employees carefully instruct you on the work and it's easy to consult them when you are having trouble.
One of the appeals of Seishoku is the approach of always taking on new challenges. If you take an interest in something and actively tackle it, it will lead to your own growth. I think that is the kind of workplace this is.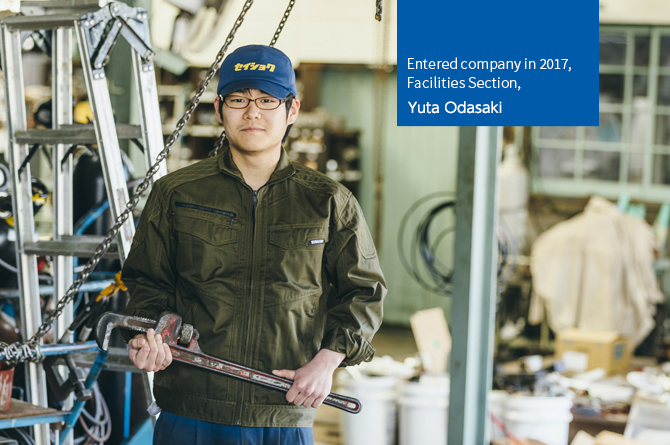 I originally studied in the department of electricity when I was a student, and I was interested in craftsmanship and experiencing machinery. I learned about Seishoku then, was drawn to its work content, and decided to enter the company.
Currently, I am part of a department that mainly conducts machinery and facilities maintenance. There are machines and facilities of various sizes in the factory, and a failure of or damage to any machine affects product quality and delivery times. I perform various tasks such as repairing those machines and facilities that are operated every day, replacing parts, and fine-tuning shafts and rolls. Machines that have stopped working due to some cause can be restarted by investigating the cause and fixing it. Although it might seem obvious at first, that is where I feel fulfillment in my work.
Seishoku is a historic company, but there are many young employees active here. So there is no need to be on guard against difficult work content or difficult relations with coworkers. I look forward to the day when I can work with you.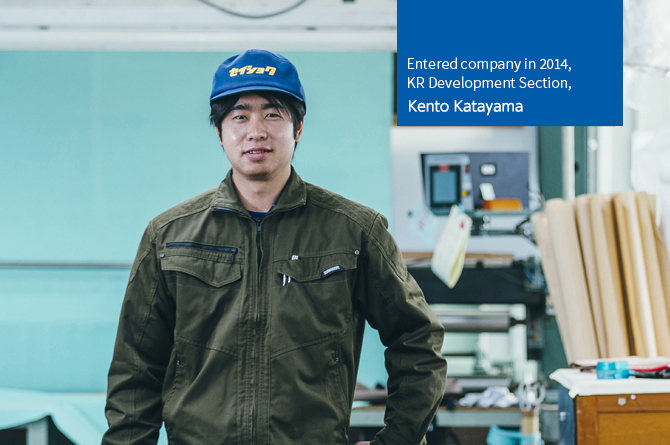 I mainly studied chemistry in high school and university and was always good at science and mathematics. I was interested in craftmanship work, and within that manufacturing work where I could do test processing and development. I learned about Seishoku, thought that I would like to try being involved in the dyeing industry, and entered the company.
The development work I am involved with now is trying processing at the company that is newly planned by customers and determining whether issues have arisen, as well as working on processing by receiving requests for added value from customers for flexibility processing, waterproof processing, etc.
I believe that test processing and development work is suited to people who follow through to the end with perseverance. You also often tackle new processing requested by customers, so I believe it is suited to people who are flexible and can think outside the box.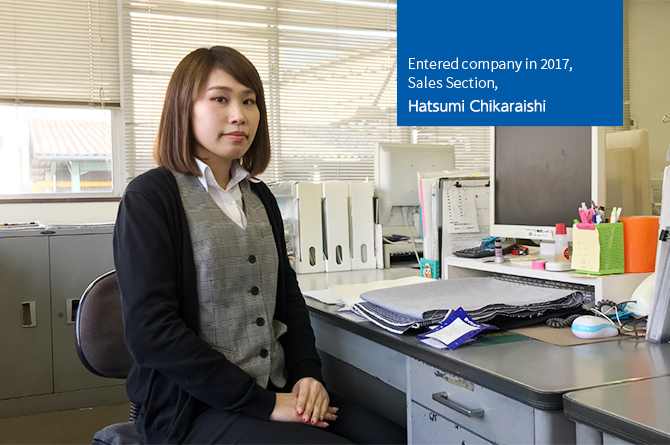 I love my home prefecture of Okayama and wanted to work here. I learned about Seishoku when I was job hunting. I liked that Seishoku is a long-established corporation, as well as the company principles and atmosphere, and decided to enter the company. I am currently in the Sales Department and do sales work such as creating color samples to send to customers and shipping orders. Sometimes customers request earlier deadlines, and I have to ask the onsite employees to work much harder. However, even in those times, they cheerfully accept the work with smiles on their faces. There are also many interesting more senior employees in the workplace. I feel motivated to become like them. I believe that the biggest appeal of Seishoku is the people who work here.
There are various kinds of work at Seishoku beyond manufacturing in the factory, such as the Sales Department that I am part of. I hope that people interested in Seishoku will actually come visit the company, and see the fabric dyeing process and various jobs.